Floriade: The Biggest Celebration of Spring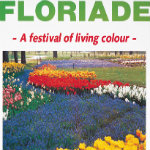 The winters in Canberra, traditionally cold, provide ideal conditions for the growth of the millions of tulips. Every year, these tulips bloom in the spring exactly when expected, in a park overlooking Lake Burley Griffin. Popular spring event Floriade, once limited to a single day, now includes NightFest, which continues for five magical nights.
7 Reasons to join the celebrations:
1) Do you like to take pictures? The fragrant beds of Floriade, full of tulips and inspired by a different theme each year, represents an ideal subject for a photographer. More than 440,000 tourists come from all over the world to visit the largest floral festival in the southern hemisphere, which has free admission.
2) To admire the hard work behind the festival: set up of the flower beds, paths and temporary infrastructures requires months of planning. The team of gardening makes sure that there are flowers to bloom throughout the month, by planting them at different depths. During the festival, the gardeners always guarantee a perfect look by removing the faded flowers, reshaping the beds and monitoring the pH and the percentages of salt and soil nutrients.
3) The flowers are the main attraction of Floriade, but the wonderful floral arrangements are also framed by many other activities. Tasty food is served by world-renowned chefs, chance to learn horticulture and gardening and live music can be enjoyed with animal show.
4) Floriade became even more fabulous in 2008 with the introduction of NightFest, a fantasy evening that continues for five nights, transforming the park into a world of fairy tale, full of fun and lightness. Flower beds, innovative lighting show, ponds and gardens with live music, comedians and DJ also contribute to the lively atmosphere.
5) Once the show ends, the flowers of Floriade are not wasted: They cut the remaining flowers and send them to hospitals in the nearby area. And more and more people get the chance to enjoy their beauty.
6) In addition to providing a central theme (the edition of Floriade 2014 was inspired by the passion), the list of the events changed from week to week, so that any returning visitors can always see something new. This year, the themes proposed for individual weeks included art and culture, food and wine, family fun and outdoor adventure.
7) Give yourself a truly regal treat with a boat ride on the Burley Griffin lake : In 2011, Queen Elizabeth and Prince Philip left the Parliament and boarded a majestic boat to visit Floriade. Three ferries carry passengers to the entry gate of the event.
Floriade is a must visit for gardening enthusiasts and lovers of Flowers. DIY learners can draw inspiration from a wide range of demonstration. visitors will be able to capitalize on a number of ideas to put into practice once they return home.